Nature Drops Lucky Draw 2021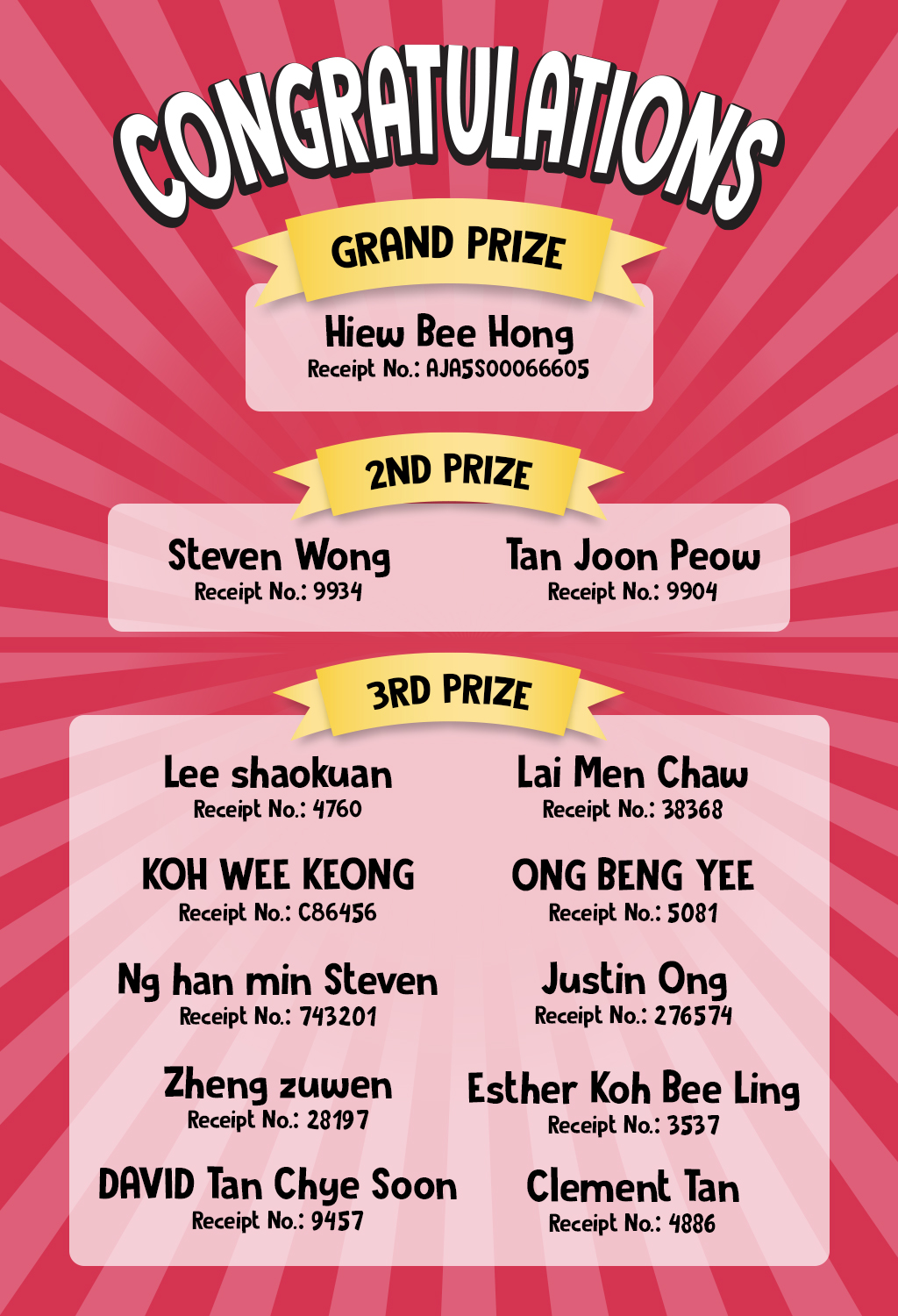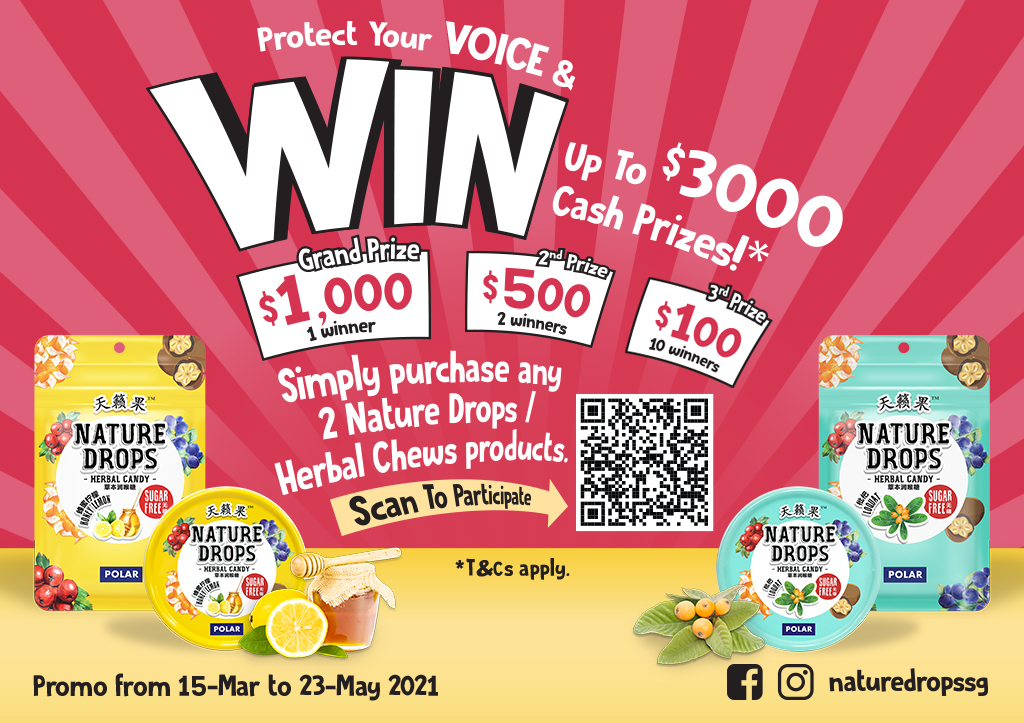 By entering this contest, you confirm that you have read, understood, and agreed to below terms and conditions of Nature Drops - "Protect Your Voice" Lucky Draw promotion:

1. "Protect Your Voice" and Win Cash lucky draw is organized by Field Catering and Supplies Pte. Ltd (FCS) and is open to all residents of Singapore eighteen (18) years old and above, except for employees and immediate families of FCS.
2. Stand to win prizes with minimum two (2) tins or packets of purchase of any Nature Drops and/or Herbal Chews products in a single receipt. Purchased must be made at any leading retailers nationwide within the contest period (from 15-Mar-2021 until 23-May-2021).
3. To submit entries:
i. Scan the above QR code or click here: Protect your voice with Nature Drops
ii. Fill up the form with all required particulars to successfully submit your entry.
4. All Nature Drops Herbal Candy products (Nature Drops Loquat 60g, Nature Drops Loquat 23g, Nature Drops Honey Lemon 60g, Nature Drops Honey Lemon 23g) and Herbal Chews Herbal Candy products (Herbal Chews Loquat 30g, Herbal Chews Honey Lemon 30g) are included in the lucky draw.
5. Prizes up for grabs:
i. Grand Prize: $1000 cash prizes. (1 winner)
ii. 2nd Prize: $500 cash prizes. (2 winners)
iii. 3rd Prize: $100 cash prizes. (10 winners)
6. Others
i. All prizes are non-exchangeable, non-transferable and non-convertible to cash. Prizes are subject to availability and the Organizer reserves the right to substitute any prize with another equivalent value without prior notice.
ii. Purchase receipts must be dated from 15-Mar-2021 till 23-May-2021 in order to qualify.
iii. Multiple entries are allowed, but each individual can only win once throughout the campaign. Each receipt is only valid for one entry.
iv. All entries must be submitted within 31-May-2021. Incomplete and illegal entries will be disqualified from this promotion. The draw will be electronically drawn on 8-Jun-2021. The Organizer's decision is final and no correspondence shall be entertained. Winners will be notified by email and/or phone.
v. To claim, winners must present original/photocopy of receipt and official ID. Prizes which remain unclaimed by any winner(s) within 30 days after the announcement of the Lucky Draw shall be conclusively forfeited, and the forfeited prize will be nulled and void accordingly.
vi. Winners are required to collect the prize at redemption centre, 17 Senoko South Road, Singapore 758077, after being notified via email
vii. By participating in this promotion, the participant understands and accepts that the Organizer and its agencies, affiliates, and any other parties directly involved in organizing the Promotion, may collect, use and disclose the participant's personal data, for the marketing purposes and/or activities deemed necessary by the Organizer in accordance with the Personal Data Protection Act 2012.
viii. The Organizer reserves the right to withdraw or cancel the Promotion and to amend or change these Terms and Conditions at any time for whatever reason and without giving prior notice to the Participants. The decision of the Organizer on all matters relating to or in connection with the Promotion is final, and no correspondence will be entertained. The Participant shall fully indemnify and hold the Organizer harmless from and against any loss, damage, cost, liability or expense (including legal fees), whether direct or indirect, in connection with and/or arising from the Participant's breach of these Terms and Conditions.