SPC Lucky Draw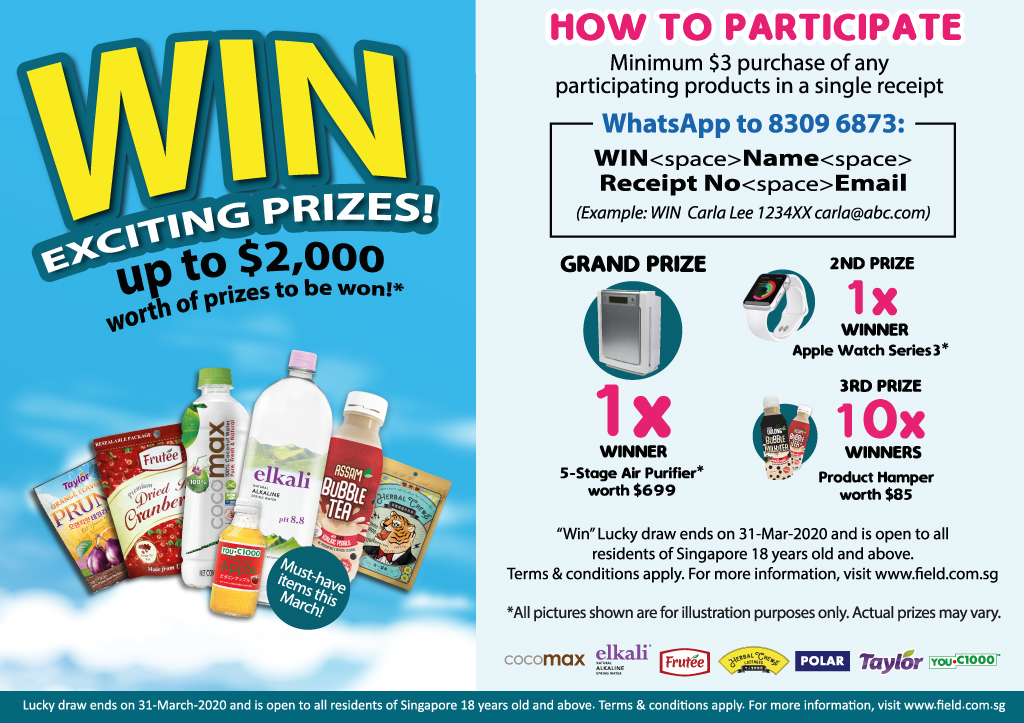 By entering this contest, you confirm that you have read, understood, and agree to below terms and conditions of "WIN" Lucky Draw promotion:
1. "WIN" lucky draw is organized by Field Catering and Supplies Pte Ltd (FCS) and is open to all residents of Singapore eighteen (18) years old and above, except for employees and immediate families of FCS.
2. To participate, simply spend a minimum of $3.00 on any FCS participating brands in a single receipt at any Singapore Petroleum Company (SPC) stores across Singapore.
3. Participating products: Cocomax 100% Coconut Juice 500ml (assorted flavours); Cocomax 100% Coconut Juice 350ml; elkali Natural Alkaline Spring Water 1250ml; Frutee Dried Cranberries 170g; Herbal Chews Lozanges 30g (assorted flavours); Polar Bubble Tea 450ml (assorted flavours); Taylor Dried Fruits (Apricot, Dates, Prunes, Golden Prunes, Orange Flavoured Prunes); YouC1000 Isotonic Water 500ml (assorted flavours) and YouC1000 Vitamin Drinks 140ml x 6s (assorted flavours).
4. Promo starts from 1-March-2020 until 31-March-2020.
5. To submit entries:
i. Whatsapp to 8309 6873 in this format:
WIN<space>NAME<space>RECEIPT NO<space>EMAIL
(Example: WIN Carla Lee 1234XX This email address is being protected from spambots. You need JavaScript enabled to view it.)
6. Prizes:
i. Grand Prize: 1 x winner of 5-stage Air Purifier worth $699
ii. 2nd Prize: 1 x winner of Apple Watch Series 3 worth $449
iii. Consolation Prize: 10 x winners of product hamper worth $85 each winner.
7. Others
i. Only receipts during the contest period, dated from 1-March-2020 to 31- March-2020 are qualified for the draw.
ii. Multiple entries are allowed, but each individual can only win once throughout the campaign. Each receipt is only valid for one entry.
iii. All entries must be submitted by 10-April-2020. Incomplete and illegal entries will be disqualified from the draw. Winners will be electronically drawn on 15-April-2020.
iv. The Organizer's decision is final and no correspondence shall be entertained. Winners will be notified by email and/or phone. Winners must present original/photocopy of receipt and NRIC. Unclaimed prizes within 60 days shall be nulled and void.
v. All prizes are non-transferable and non-convertible to cash. Prizes are subject to availability and the Organizer reserves the right to substitute any prize with another of equivalent value without prior notice. Vouchers are subject to the terms and conditions of SPC Singapore. The Organizer is not responsible or liable for any loss, damage or injury suffered by the winner whilst using the Prize.
vi. By participating in this promotion, the participant understands and accepts that the Organizer and its agencies, affiliates, and any other parties directly involved in organizing the Promotion, may collect, use and disclose the participant's personal data, for the marketing purposes and/or activities deemed necessary by the Organizer in accordance with the Personal Data Protection Act 2012.
vii. The Organizer reserves the right to withdraw or cancel the Promotion and to amend or change these Terms and Conditions at any time for whatever reason and without giving prior notice to the Participants. The decision of the Organizer on all matters relating to or in connection with the Promotion is final, and no correspondence will be entertained. The Participant shall fully indemnify and hold the Organizer harmless from and against any loss, damage, cost, liability or expense (including legal fees), whether direct or indirect, in connection with and/or arising from the Participant's breach of these Terms and Conditions.